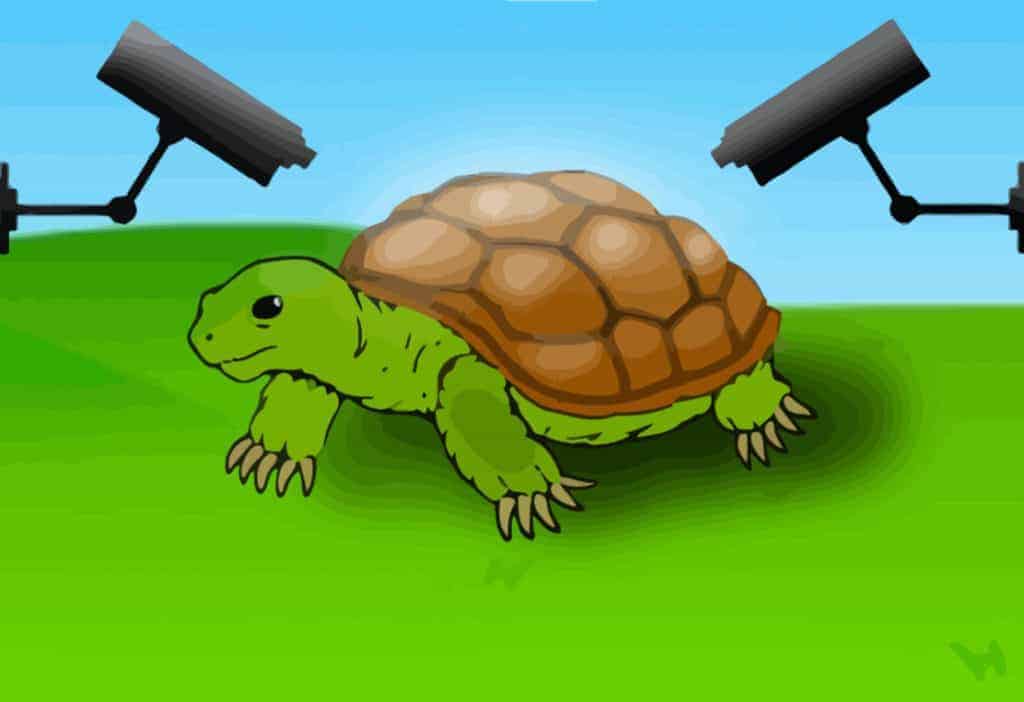 Remote monitoring of just about anything is big business these days. Whether you use a 'Ring' type doorbell camera or have an audio visual baby monitor, our increasingly connected world makes it incredibly easy to keep a watchful eye on things from a distance.
Tortoises are pretty hardy creatures, but even so they can still find themselves in trouble from time to time, especially if they fall onto their back and are unable to get back up again. Sadly in some cases this will even lead to a tortoise dying, particularly if they fall over under an intense heat source such as a heat lamp.
This is where having a camera positioned over a your tortoise enclosure can prove really useful, or indeed even life saving in some cases.
Thankfully there are many inexpensive cameras on the market that are ideally suited to remotely monitoring tortoises, and that's what I'm going to look at here based on my own experience.
This one is top rated on Amazon, and is also the camera I have experience with because it's the one I use, both for my tortoise and general home security.
As for why this camera is so highly rated, well that's simple, it probably offers the best value for money of all the cameras readily available at the time of writing. I've yet to find any major limitations with it, and in fact it does an excellent job.
In terms of specifications the image this camera records in 1080p, which is as clear an image as you could ever need for any application, let alone to simply check that a tortoise is facing the right way up.
So using the Yi home camera is pretty straightforward out of the box. First you position it somewhere convenient; taking advantage of the simple adjustment of the camera in its stand in order to get the angle of the picture correct, then it's simply a case of synching it to your phone and wifi network, which is also really – all you do is use the camera to take a picture of a QR code on your phone and you're good to go.
The communication between your phone and the camera is encrypted, so there are no concerns over your data being compromised or viewed by any nefarious outsiders.
You've then got the choice to record activity either on a micro SD card inserted in the camera (although this isn't included) or else you can back it up to Yi's own cloud based storage system, which costs 3 or 4 dollars a month, but is well worth it if you want to be able to store more than just a couple of gigabytes of data.
Once in use the camera is very simple to use; you can click on the camera (or cameras if you have more than one) to see what's going on live, but you'll get a notification any time there is any movement detected.
Now granted it isn't a lot of use to you to get a notification every time your tortoise moves a limb, whereas as a security camera this is a very useful feature if the camera is pointed at a location that should otherwise be free of movement when you're not at home. Having said that I don't personally find this to be too much of an issue, especially as I tend to have my phone on silent.
Of course you can turn off alerts altogether and simply rely on your own periodic checking of the camera to make sure your tortoise isn't in trouble. The advantage of this is that you don't need to record any of the footage.
Night Vision
Quite remarkably (in my humble opinion anyway!) this camera even has a decent night vision feature; the manufacturers claim it can see up to 3 metres in zero light conditions, and indeed I've always been very impressed with the results.
Of course in the case of keeping an eye on your tortoise you probably won't be too concerned about this at nighttime, given that tortoises in captivity tend to sleep at night just as we do. Still if you do need it for any reason it works well.
Likewise this camera also allows you to both listen to what the inbuilt microphone is picking up, and for you to talk through the camera. Again, neither of these features are particularly useful in the context of tortoise monitoring, but if you're running a suite of these cameras for various purposes then it certainly can be useful.
On The Downside
For less than 40 bucks you can't really complain too much about this camera, but of course that doesn't make it perfect.
First of all you might suffer the odd connectivity issue, although to be fair it's difficult to determine when this is the fault of the camera and its app, and not the wifi connection. I haven't had  a problem with this very often at all though so it's by no means a deal breaker.
This camera is also designed purely for indoor use, it isn't waterproof at all, so it's most useful for a tortoise kept in a vivarium or on a tortoise table. Arguably you could position it next to a convenient window, and have it focus on an outdoor tortoise enclosure, but I would probably get a dedicated outdoor rated camera for this.